Skip to Content
Premium Golf Car Products & Services in Western Oregon
Foursom Golf Cars is a proud provider of golf cars, utility vehicles, and low-speed vehicles in Western Oregon. Since 1988, our family-owned and operated company has provided customers with superior products, exceptional services, and outstanding customer support. Located in the heart of the Willamette Valley in Woodburn, Oregon, our service professionals will ensure you find the leisure vehicle of your dreams. We sell new and used golf cars, rent all types of low-speed vehicles, and offer services and repairs. We partner with ClubCar to offer the highest quality inventory.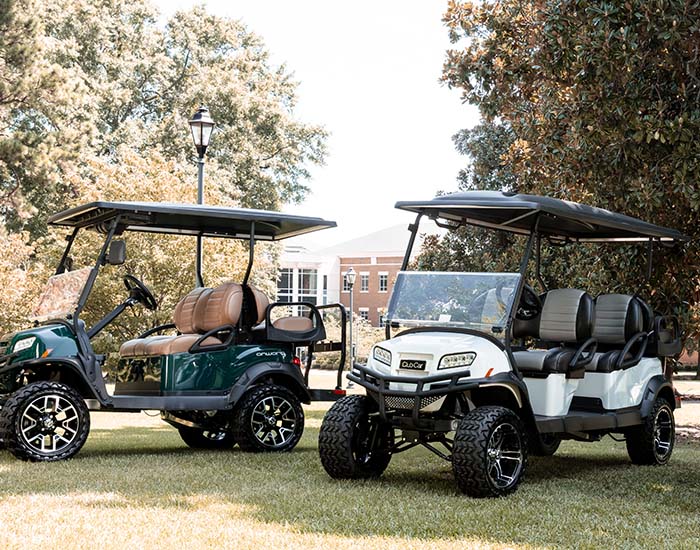 Offering a Vast Selection of Golf Cars
We have a showroom full of new and used golf cars that are ready to go home with you today. We also offer customization options to ensure your golf car shows off your style. You can customize your golf car with unique wheels, enclosures, windshields, seats, and more. We offer a Reconditioning Program to create as good as new golf cars from previously owned ones. We have golf cars for your every need, whether you want one to show off at the local golf course or need one for hauling cargo for work. Our experienced professionals will help you find the perfect golf car, utility vehicle, or low-speed vehicle for your needs.
Our Mission
Foursom Golf Cars's mission is to be the leading provider of golf cars, utility vehicles, and low-speed vehicles by providing our customers with superior services. We always put your needs first. You can browse our wide selection of golf cars that are perfect for personal and professional use. When you need a little more power, check out our street legal selections. We always have the parts and accessories you need for necessary repairs. If you need to rent one of our leisure vehicles for events or work, we are here for you. Contact us today to learn more about our golf cars!