Skip to Content
Recreational & Home Golf Cars in Western Oregon
A golf car is an excellent way to enjoy sports and drive around the neighborhood. Foursom Golf Cars has a wide selection of recreational and home golf cars for residents in Western Oregon. With a recreational vehicle, you'll be ready for all types of activities. We offer customized golf car selections for endless possibilities. Since 1988, our service professionals have provided top-notch customer service and fantastic golf car selections. Contact us to learn more about recreational and home golf cars today.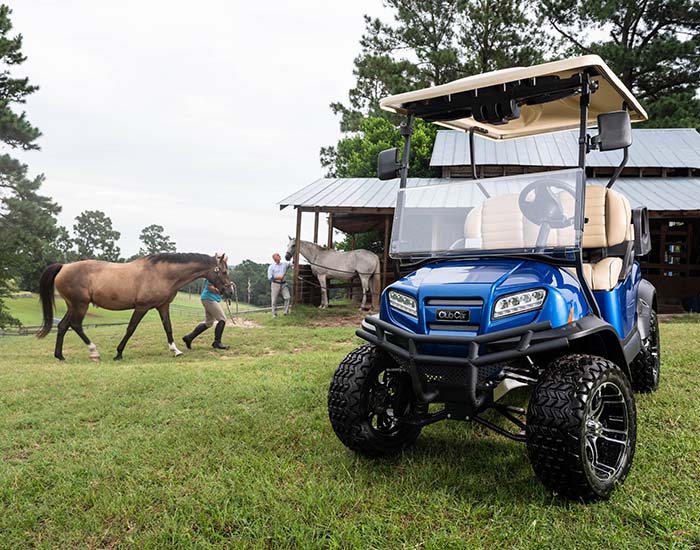 Why Do I Need a Golf Car?
Golf cars aren't only for the golf course. You can use them for many different activities, from work to play. Some of the most significant benefits of owning a golf car for recreational or home use include the following:
Sustainability – If you want an easy way to reduce your carbon footprint, a gas or electric golf car is an excellent way to travel short distances and boost the environment.
Adventure – Visit your neighbors or go for a fun ride on a nearby trail for a sense of adventure in your recreational golf car.
Customized Options – Show off your style in customized golf car options, from high-tech seats to specialized wheels.
Simple Maintenance – Proper care and attention make a golf car easy to maintain.
Our Recreational & Home XRT Series
Our XRT Utility Vehicle Club Cars selection is perfect for everything from hunting trips to neighborhood drives. You can choose a golf car like the XRT 800 for easy navigation through small trails and a unique design that allows it to fit into a standard pickup truck bed. The XRT 1550 has ample storage space and is all-wheel drive for going on adventures in comfort. You can carve your own path with the XRT 1550 SE for rough terrain riding and a lot of fun. We can help you find the recreational and home golf car that fits your lifestyle.