Skip to Content
The Estates Golf Car Christmas Lights Parade 2014 – December 4th & 5th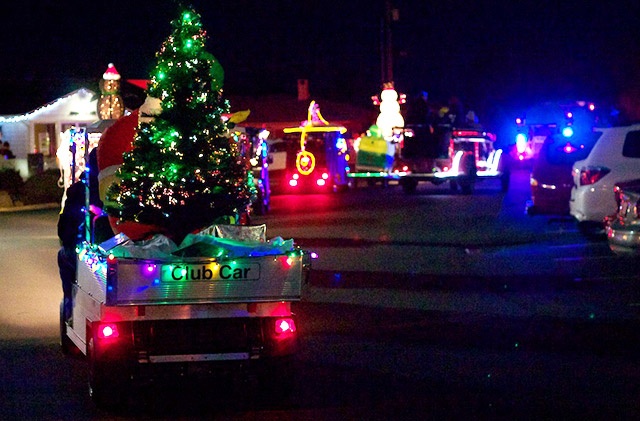 The Estates Golf Car Christmas Light Parade has been a tradition at The Estates Golf & Country Club since 1991. We are excited to be a part of it once again this coming Thursday and Friday!
If you've never experienced the parade, we would love to have you join in on the fun. Whether you have you own golf cart and would like to enter it into the parade, or if you'd just like to enjoy all the sights and sounds. This is a perfect evening for Woodburn families to come out and enjoy some community fellowship.
Guests also join family members in their golf carts, including Dick Koessel's great-grandchildren, who joined him on the route last year. He has been participating in the event for four years.
"We all have to either put a generator on the back of (the car) or we put an inverter in that converts the 12-volt system of the golf car into 110 (volts) for the lights," Dick Koessel explains, as he gets ready for the parade in The Estates' parking lot.
The parade is a two-night affair, with fire trucks and police cruisers escorting the 20-plus carts through The Estates' neighborhoods south of Highway 214 the first night and north of 214 the second night. You can view the parade just after dark on both nights.
"It's camaraderie that the people of The Estates get here," Koessel said. "It's just another thing that bonds the people together. They just have a lot of fun doing it."
Here are some great shots from our 2013 parade.